Hello everyone! My name is Jayne from Miss Jayne Becca and I am delighted that I was asked to write a guest post for Beauty Bird. As a beauty blogger I love discovering new products but I am also loyal to the ones that work for me. So I thought that I would introduce you to five beauty products I am loving right now!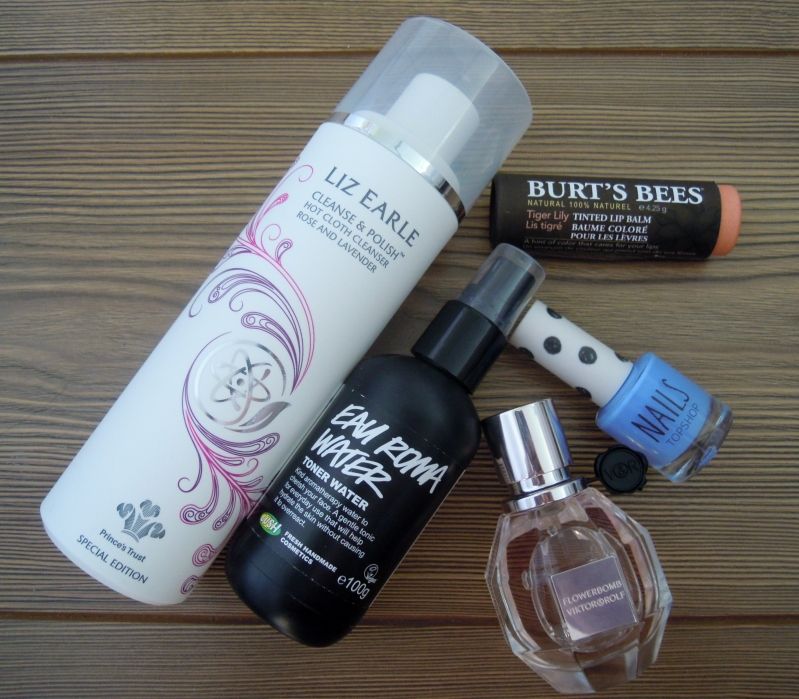 Liz Earle Cleanse & Polish Rose and Lavender | £19.75 (150ml): I am sure you have all heard of the infamous Cleanse & Polish before. I hadn't actually got round to trying this cleanser previously but once I saw that they were bringing out a special edition with rose and lavender oils I knew I had to have it. I must say that I am impressed! It leaves your skin feeling very clean, soft and I also find that it brightens my skin. Using a muslin cloth it lifts away dead skin cells and it even removes stubborn waterproof mascara. This cleanser is certainly worth investing in and if you purchase the special edition £2 will go towards supporting the vital work of The Prince's Trust.
Lush Eau Roma Toner Water | £3.95 (100g): I featured this product in my August Favourites post. It is great for refreshing your skin when it is hot and sticky. As the weather is now changing I have found that I use it after I have been in the shower. It adds moisture back into my skin. I love anything with rose in!
Burt's Bees Tinted Lip Balm in Tiger Lily | £5.10: I do love a nice lip balm and I have been using this constantly. The Burt's Bees lip balms are full of lovely natural ingredients like shea butter and coconut oil -- they leave your lips feeling hydrated and smooth. As this one is tinted you also get a subtle hint of colour which is perfect for on the go everyday wear. A handbag essential!
Topshop Nail Polish in Celestial | £5.00: This has been my go to nail polish over the past couple of weeks. I think that Topshop nail polishes are such good value for money. The quality is better than some nail polish brands which cost twice as much. I love this colour, it is bright but not 'too much' if you know what I mean! The perfect colour as we go into Autumn.
Vitkor & Rolf Flowerbomb Eau De Parfum | £48 (30ml): I was lucky enough to get a Debenhams gift card for my birthday so I put it to good use and bought the Flowerbomb perfume. I have been lusting over this since Christmas so it was nice to finally be able to purchase it! If you like floral fragrances you will love this as the key notes are rose, jasmine and orchid. I cannot get enough of this perfume -- one spray lasts all day!
What beauty products are you currently loving?
Jayne xoxo
________________________________
I absolutely love these sort of posts so a big thank you to Jayne for writing it as a guest post! Please pop over and check out her brilliant blog!
Beauty Bird xx